Latest News
Santa Day and Gazebo Lighting Set
Posted 11/30/16 (Wed)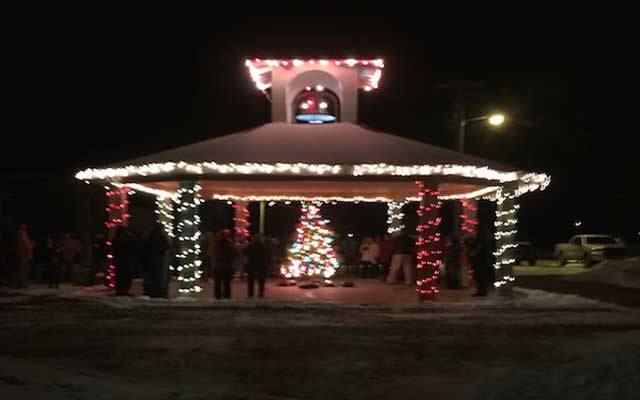 Kelly Brown, president of the Wishek Association of Commerce, spoke to the Jolly Old Elf earlier this week and plans are being finalized for Santa's annual visit to Wishek.

Santa has slated his appearance from 4 p.m. to 8 p.m. Friday (Dec. 2) at the Wishek Civic Center.

"Kids will be the primary focus of the Santa Day festivities again this year," says Brown.

In addition to pictures with Santa Claus, the association is sponsoring inflatable games, coloring, face painting and pony rides. There will be gifts for all children, age 12 and under.

Brown emphasizes that all of the above is being presented by the association at no charge.

"We want to give the children a fun-filled evening and make sure they all get a gift to take home. That's always (the association's) goal for Santa Day."

Association of Commerce board members include Brown, Stephanie Kaatz, Melisa Meidinger, Paula Froehling, Jessica Fandrich, Staci Just and Dani Goebel.

A bake sale is among the other activities scheduled Friday at the Civic Center.

Members from the Future Business Leaders of America chapter at Wishek High School are holding a fundraising supper. The menu includes knoephla soup, BBQ, a bar or cookie, and a beverage.

A vendor fair, featuring dozens of holiday gift ideas, will be held from 3 p.m. to 8:30 p.m. at the Wishek American Legion Hall.

Vendors who have signed up include Pink Zebra, Sparkle City, Norwex, Essential Oils, Light Up Canvas Prints, Jewelry-Scarves-Hats 'n More, Wooden Crosses and Wreaths, Kim's ABC Store, Tupperware, 31 Bags, Lularoe, Tastefully Simple, Harvest Baking and Wishek Community Foundation.

The show is free to the public. Booth fees paid by the vendors will benefit the new gymnastics program in Wishek.

"Santa Day is a tradition, with something to interest the entire family. Come out and see all that Wishek has to offer," Brown says.

The city Lodging Committee (sometimes known as the Beautification Committee) is once again coordinating the lighting of the community Christmas tree and the perimeter of the gazebo, which is located on Beaver Avenue, just north of the Civic Center.

Committee spokesperson Brenda Dohn says a special lighting ceremony is scheduled at the gazebo. This year, it's being held in conjunction with Santa Day, beginning at 6:30 on Friday evening.

There will be caroling, under the direction of Wishek school music instructor Janet Wolff. All students, from grades K-12, have been invited to participate. Of course, the public is encouraged to join in on the singing and performances.

"This is a fun and free activity to help get everyone in the spirit of the season," Dohn says. "We are hoping for nice weather and a big turnout."

Hot beverages will be provided, free of charge.

The gazebo, which was constructed in 2013, is topped with the bell and cupola salvaged when the dilapidated Old City Hall building was demolished.

In addition to Dohn, the Lodging Committee, appointed by Mayor Les Otto, includes Bruce Schauer, Don Weber, Sonia Salwei and Rene Otto.

Committee projects and activities are funded with proceeds from the city lodging tax.