Latest News
Behind bars
Posted 11/15/17 (Wed)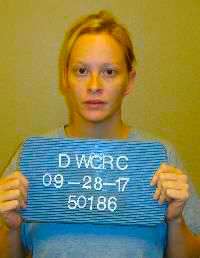 After a change of plea and a canceled trial, the woman accused of killing a Wishek native in a crash last year has been sentenced.
Darci Leigh Voldness, 29, of Jamestown, pleaded guilty in September to felony negligent homicide and misdemeanor ingesting a controlled substance.
Voldness originally faced felony manslaughter in connection with the Aug. 15, 2016 death of Denver Glas.
Voldness made a U-turn at Buckstop Junction in Bismarck, killing the 33-year-old Glas when his motorcycle struck her vehicle and he was thrown.
Voldness had reportedly used methamphetamine before the crash.
District Judge John Grinsteiner signed a judgment, sentencing Voldness to four years in prison, with three years' supervised probation and almost $11,000 in fees — the bulk being restitution, including $1,973 to Glas' estate.